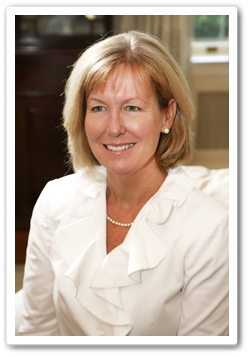 The Honorable Shannon Valentine
Shannon Valentine is a lecturer, former member of the Virginia House of Delegates, and advocate for serving the poor through economic opportunity. In January 2014, she completed an assignment as Director for the Transportation Policy Council for Governor McAuliffe's transition team.
During her time in the House of Delegates, 2006-2010, Shannon's legislative priorities included ethics, economic development, education and transportation. She led the bipartisan, legislative effort to invest in intercity passenger rail service for the first time in Virginia's history, worked to expand clean energy production, and created the first comprehensive legislative study of autism, which continues to serve as a blueprint today.
Shannon also demonstrated a strong commitment to open, honest, transparent government. She sponsored legislation and a constitutional amendment creating a bipartisan redistricting commission, patroned legislation strengthening campaign finance disclosure, and served as chief co-patron of the House Rule that required recorded votes in subcommittees in the House of Delegates.
Shannon currently serves on the Board of the Sorensen Institute for Political Leadership, Lynchburg City School Foundation, E. C. Glass Foundation, Converge Virginia, Habitat for Humanity Advisory Council, and Beacon of Hope, an organization dedicated to inspiring and preparing students for post-secondary education.
EDUCATION:
Graduated: Phi Beta Kappa, University of Virginia in Economics (1981)
Graduated: Sorensen Institute for Political Leadership, UVA (2005)
Graduated: Education for Ministry, a four-year theology course through Sewanee
University School of Theology (2000)
Graduated: Just Faith, a course in Catholic Social Justice (2002)
Shannon has been married to her husband, Mike, for 25 years, and has three children, Catherine, Jack and Brooke.