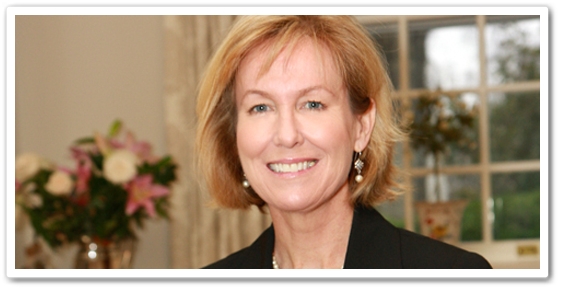 Biography
Lecturer/Public Speaker 2010-Present
Addressing issues of public policy, ethics and effective leadership by connecting experiences as an elected official, political candidate, businesswoman and mother of three.
Director for Transportation Policy Council December 2013 – January 2014
Transition for Governor Terry McAuliffe
Member of the Virginia House of Delegates 2006-2010
Created a legislative agenda that focused on economic development, ethics in government, education and health.
Committee Assignments:
Transportation Committee
Courts of Justice Committee
Judicial Review
Legislative Appointee:
Interagency Coordinating Council


Executive Assets
A leader with proven ability to bring diverse people together to solve problems.
Policy Strategist – Writer/Editor – Creative Thinker – Collaborator – Negotiator


Communications
Associate Vice President, Equifax, Atlanta, GA. Headed Corporate Communications, Media Relations, Advertising, Internal Communications, Public Relations; Launched Corporate Identity Program bringing nine operating companies, with more than 17,000 employees in 1,100 locations throughout the United States and Canada, under the Equifax name. (1986 – 1991)


SPHEX
Member, speaking society, "Science, Philosophy, History, Ethics and the Unknown." Its premise, "Communities grow and prosper, when nurtured by the civil exchange of information and ideas." (2012- Present)
Serving the Poor through Economic Opportunities
For more than 20 years, creating opportunities for families living in poverty through education, workforce training and neighborhood revitalization: Beacon of Hope, Habitat for Humanity, Lynchburg Neighborhood Development Foundation, Lynchburg Housing Partnership. (1991 – Present)
Public Policy Initiatives
Economic Development
Transportation/RAIL
Legislative leader for The Northeast Regional Rail Service – spearheaded the successful bipartisan, legislative effort to invest in intercity passenger rail service for the first time in Virginia's history. Pilot included both Lynchburg and Richmond. NE Regional is second-fastest growing rail line, with best record of cost recovery in the nation. (In second year, ridership increased $28.5%; revenues increased 29.8%.)
Chief Patron, HJ 714, study: Long-term Rail Funding for freight and passenger rail in Virginia (2009)
Member, Transportation Committee, Virginia of House of Delegates 2006-2010
Education/Workforce
Member, Beacon of Hope, innovative organization, first in Virginia, whose mission is to inspire and prepare all graduates of Lynchburg City Schools for post-secondary education: four-year college, two-year college, vocational training, military and industry certification. In one year, graduation rates have risen 5%. (2012-Present)
Chair, Educational Advocacy, Lynchburg City Schools Foundation (2010-Present)
Member, E. C. Glass Foundation, promotes excellence by supporting teachers who aspire to teach beyond the curriculum (2010-Present)
Infrastructure/Jobs
Legislative leader – secured and coordinated state, federal and local resources to improve infrastructure, clean the James River, and create jobs (Combined Sewer Overflow: 2006-2010)
Chief Patron, HB 2240, created Economic Development Authority (2009)
Chief Patron, HB 1735, created Arts and Culture Districts as economic tool for urban revitalization (2009)
Energy
Legislator, advocate for seed funding for CAER, Center for Advance Engineering and Research, a public/private partnership in nuclear energy sector (Secured: 2006 Budget)
Chief Patron, HB 2235, Clean Energy Manufacturing Incentive Grant (2009)
Member, Renew Virginia, an effort to expand clean energy production in Virginia, launched by Governor Tim Kaine (2007-2009)
Ethics in Governance
Redistricting
Member, Steering Committee, Messaging Committee of OneVirginia2021, a new, dynamic organization of Virginians committed to creating fair redistricting in the Commonwealth (2012-Present)
Member, The Sorensen Institute for Political Leadership, UVA, promoting ethics, trust and civility in government. (2008-Present)
Chief Patron, HB 1687, Bipartisan Redistricting Commission (2009)
Chief Co-Patron, HJ560, Constitutional Amendment/Redistricting (2008)
Transparency in Government
Chief Patron, HB 687, Campaign Finance Disclosure (2009)
Chief Co-Patron, HR 48, requiring recorded votes Subcommittees in the House of Delegates (2007-2008)
Health
Chief Patron: HJ 105, first comprehensive legislative study of Autism in Virginia that continues today to serve as a blueprint for Autism Services in the Commonwealth (2009)
Chair of Governance, Member, Medical Society of Virginia Foundation (2007-2012)
Gubernatorial Appointment, Virginia Interagency Coordinating Council, lead agency managing early intervention services for infants and children in the Commonwealth (2007-2009)
Legislator, advocate for a core group of Lynchburg citizens who created the concept of PACE, Program for All-Inclusive Care for the Elderly, which today allows low-income, elderly citizens to remain in their homes while receiving health care, resulting in better quality and lower costs (Secured: 2006 Budget)


Education
Graduated: Phi Beta Kappa, University of Virginia, Economics, 1981
Graduated: Sorensen Institute for Political Leadership, UVA, 2005
Graduated: Education for Ministry, a four-year theology course through the
Sewanee University School of Theology, 2000 (Lynchburg, VA.)
Graduated: Just Faith, a course in Catholic Social Justice, 2002 (Lynchburg, VA.))


Civic Commitments
The Sorensen Institute for Political Leadership, University of Virginia
Women's Leadership Council – United Way
CONVERGE Virginia
E. C. Glass Foundation
Beacon of Hope
Lynchburg City School Foundation, Chair of Educational Advocacy
Habitat for Humanity, Advisory Council
Episcopal Diocese of Southwest Virginia – Delegate
Boosters, E. C. High School, Varsity Girl's Soccer
Parent of Soccer Captain, E. C. Glass High School, Men's Soccer, Communications


Awards
Democracy in Action Award, League of Women Voters
Freedom Fighter Award, NAACP
Advocate of Year Award, Challenged Sports Exchange
Academy of Women, Government, YWCA
Commonwealth Autism Services Award
Elizabeth Forsythe Community Service Award
Honorary Doctorate of Law, Virginia University of Lynchburg
The Humanitarian Award, Virginia Center for Inclusive Communities
Individual Distinction Award, Medical Society of Virginia Alliance
Legislator of Year in Public Safety, PISA
Top 20 Delegate, Virginia League of Conservation Voters (four years)


Past Civic Commitments
Medical Society of Virginia Foundation – Chair of Governance
Commonwealth Attorney's Task Force to Reduce Gang Violence
The Bloomfield Corporation, to assist physically challenged children
Habitat for Humanity – past President
Women's Resource Center – past President
Citizens for Adult Literacy and Learning Advisory Board
The Lynchburg Housing Partnership
Lynchburg Neighborhood Development Foundation
Holy Cross Board – Chair of Long Range Planning
YMCA of Central Virginia
Virginia School of the Arts
Saint Paul's Tutorial Program


Married to Dr. Michael Valentine, and Mom to Catherine (21), Jack (18) and Brooke (15).